Fall foliage in Kyoto is one of the most beautiful scenes that I've ever seen. While cherry blossom is also a gorgeous season, but it is often short lived, while fall foliage can lasts up to a month.
Best spots for fall foliage?
There is nothing better than viewing colourful autumn leaves with Kyoto's gorgeous historical sites including temples, shrines and beautiful gardens. Some of the famous spots are Tofuku-ji Temple (東福寺), Eikando Zenrinji Temple (永観堂), Kodaiji Temple (高台寺), Kiyomizudera Temple (清水寺), Jojakkoji Temple (常寂光寺), Nanzenji Temple (南禅寺) and etc. You just can't avoid the massive crowd at some of the popular spots, so remember to plan your route and time wisely.
Best time to visit?
For Kansai area, the peak of fall foliage usually comes in mid-November, and the best time to visit is from 20th November onwards. If you arrive too early, head up into the Kitayama Mountains. If you come too late, it is best to head south to Uji and Nara.
Special night illumination
Most of the temples and shrines in Kyoto close early. However during autumn season at night, some of the historic buildings and gardens are illuminated, and you get to see them in a completely new light. Check out the time here.
Pre-booking
It is very important to book for your accommodation in advance. Kyoto station, Gion, Kawaramachi (sanjo/shijo) are some of the areas that you can consider. It is also a must to prebook for the Sagano Romantic Train (one month in advanced) if you plan to visit Arashiyama.


For live fall foliage updates in Japan, please follow https://tenki.jp/forecaster/y_nakagawa/2018/09/11/2051.html#sub-title-d
For live fall foliage updates in Kansai area, please follow https://www.kyoto-np.co.jp/kp/koto/momiji/index.html. "见倾" means peak foliage.
DAY 1


From Kansai International Airport, we took the Limousine Bus to Kyoto city because it stops right outside our airbnb. It is very easy to exchange our mobile voucher for a physical ticket at the airport. The bus is super comfortable and spacious with plenty of luggage space. Here's the bus route and time table.
You can book for the Limousine Bus Transfer via KLOOK here. [Use promo code SHOPFESTFIRSTMY (RM15 off for first timer)/SHOPEXTRA7 (7% off)/JOMHOLIDAY50 (min spend RM800)/JOMHOLIDAY100 (min spend RM1200)]
Alternatively, the "ICOCA & HARUKA" is a set containing an "ICOCA" IC card (pre-charged with 1,500 yen) and a discounted ticket for the Kansai-Airport Express "HARUKA." The ICOCA can be used on JR, subway, private railway and bus transportation and for shopping in the Kansai Area and beyond. The Kansai-Airport Express "HARUKA" provides direct access from Kansai-airport Station to Tennoji, Shin-Osaka and Kyoto Stations. It is 3,600 yen for one way and 5,200 yen for return ticket.
More information here: http://www.westjr.co.jp/global/en/ticket/icoca-haruka/


This airbnb listing is no longer available due to changes in Japan's law.


Our airbnb is conveniently located at the Gion area, so dessert at Tsujiri Honten is a must. I remembered that the parfait here is really good and it does not disappoint.
Tsujiri Honten
Address: 573-3 Gionmachi Minamigawa, Higashiyama-ku, Kyoto 605-0074, Kyoto Prefecture
Phone: +81 75-561-2257
Hours: Open Daily 10 am to 10 pm
Website: http://www.giontsujiri.co.jp/saryo/


For dinner, we went to Gion Tokiwa (ぎをん 常盤). Soba and udon are 100% home made here, and the place is best known for its dashi soup which has a gentle scent and a taste that is not too strong since it is made naturally and yet has a deep umami savory taste that you'll love.
Gion Tokiwa
Address: 605-0083 Kyōto-fu, Kyōto-shi, Higashiyama-ku, Hashimotochō
Phone: +81 75-561-1811
Hours: 12–3PM, 6–10PM daily, closed on Sundays.
DAY 2


Day 2 is all about Arashiyama and Kitano Tenmangu Shrine's night illumination. This two tourist attractions are located along the randen line so we got our randen one day pass for only RM 19 from KLOOK. [Use promo code SHOPFESTFIRSTMY (RM15 off for first timer)/SHOPEXTRA7 (7% off)/JOMHOLIDAY50 (min spend RM800)/JOMHOLIDAY100 (min spend RM1200)]

It was fun to hop aboard the iconic 100 year old Randen for a day of unlimited travel. It is a popular mode of transportation during cherry blossom season as it will pass by a sakura tree tunnel.


We alighted at Arashiyama station and followed the crowd to Arashiyama Bamboo Forest.


You will pass by two famous stalls along the way – 嵯峨豆腐三忠 and Kotoimo Honpo 古都芋本舖. 嵯峨豆腐三忠 sells fried food, udon and soba for cheap but please keep your expectations low. However, the green tea soft serve and mitarashi dumplings at Kotoimo Honpo are quite good!


The Arashiyama bamboo grove is known for its rich bamboo stalks located in the Arashiyama mountains.It is also a popular tourist destination, some tourists came here really early just for some nice and quiet shots.


Jojakko-ji Temple is a sight well worth seeing in Arashiyama, especially during autumn. The temple is built on a steep hillside so from here it offers great overlook views of Arashiyama area. The temple has wonderful mossy banks and a terrific collections of paths, steps and trees laid out in exquisite style.


There over 200 maple trees at the site, offering amazing scenery in in autumn when the maple trees turn into bright red and warm orange.


Jojakko-ji Temple
Access: 15 mins walk from JR Saga Arashiyama station
Hours: 9:00~17:00
Fee: 400 yen


One of the highlights of our trip is the Sagano Romantic train that travels a leisurely, 25-minute route from Saga torokko station to Kameoka torokko Station, following the scenic beauty of the Hozukyo Ravine on its route.
How to Get Here?
Saga torokko station, which sees the train's first departures, is adjacent to JR Saga-Arashiyama Station and can be reached from Kyoto Station in about 15 minutes via the Sagano Line.
How to Buy Ticket?
The train is particularly popular during the autumn season from mid November to early December so it is better to book your ticket in advance from KLOOK (one month one the dot before your trip). However, if the tickets are sold out, you can still queue for the standing tickets at the Torokko Saga Station on the day itself, or at JR ticket offices in the Kansai Region.
[Use promo code SHOPFESTFIRSTMY (RM15 off for first timer)/SHOPEXTRA7 (7% off)/JOMHOLIDAY50 (min spend RM800)/JOMHOLIDAY100 (min spend RM1200)]
How to Choose the Best Seat?
Each train is made up of four enclosed cars and one fully open car which is coach 5. You can only buy tickets for coach 5 on the departure day itself, or exchange your pre-booked ticket for coach 5 ticket with no extra charges.
One Way or Return Ticket?
Travelers have several options once they reach Torokko Kameoka Station, the terminal station of the line. They can take the sightseeing train back to Arashiyama or walk five minutes to nearby Umahori Station from where they can catch a JR train back to Arashiyama or Kyoto. Last but not least, many travelers combine the sightseeing train with a Hozugawa River Cruise (4100 yen one way) back to Arashiyama. A bus connects the train station to the departure point for the cruises.
Hours & Fees?
Hours: Hourly from 9:00 to 16:00 (until 17:00 on busy days)
Closing Period: Wednesdays (except for national holidays, during the spring and summer vacation periods and the autumn foliage season), December 30 to the end of February
Admission: 620 yen one way between Torokko Saga and Torokko Kameoka Stations


We ended up not purchasing our tickets in advance because we can't decide on exact timings and dates. As a result, we had to queue for last minute tickets when we got to Arashiyama.


It was a blessing in disguise because standing tickets means we can we  can move from one area to another depending on the view from the tram.


That's the Hozugawa River Cruise, a sightseeing boat that rides down the Hozugawa River from Kameoka to Arashiyama.


Due to the massive crowd in almost every restaurants in Arashiyama, we picked a quiet restaurant and it turned out to be our worst meals in Japan (LOL).


These super-soft roll cakes from Arinco lifted our mood after such a bad meal!
ARINCO Kyoto Arashiyama Head Shop
Address: 20-1 Sagatenryuji Tsukurimichicho, Ukyō-ku, Kyoto, Kyoto Prefecture 616-8384, Japan
Hours: 9AM–8PM daily
Phone: +81 75-881-9520


% ARABICA serves the best coffee in Arashiyama but the queue puts us off. They do have another 2 locations in Kyoto – Higashiyama and Fuji Daimaru.


If you are looking for something a little less crowded and off-the-beaten track, then mark down this magical spot in Arashiyama that is Kyoto's best kept secret. We are sure you won't regret it.Kimono Forest is a collection of gorgeous cylinder-shaped pillars framing the lane way to of randen Arashiyama station.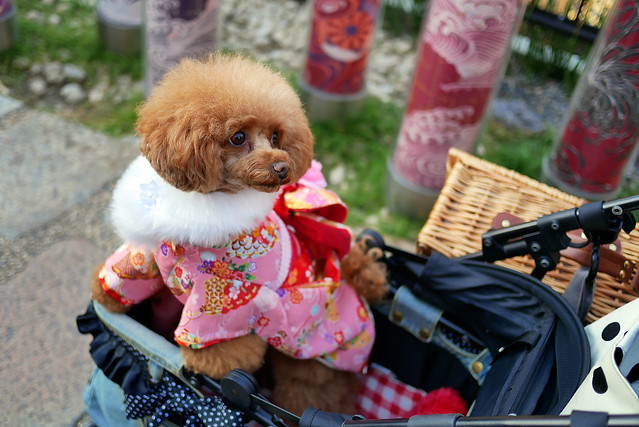 There are about 600 of  these kimono pillars all installed all over the station grounds. Apart from that, the station is also home to a hot spring and it is connected to the Hannari Mall & Hokkori Square. For only 200 yen, you get to relax your feet plus a souvenir towel.


From Arashiyama Station, we took the randen tram to Kitano-Hakubaichō Station. The path to Kitano Tenmangu temple is lined with these beautiful ginkgo trees.


Kitano Tenmangu Shrine (北野天満宮) is a famous spot for momiji because there are hundreds of maple trees line the garden's river and are lit up in the evenings.


The main photo spot of the shrine is this arched red bridge crossing the Tenjin River.


Seeing these maple trees being illuminated at night is somewhat a magical experience. You must brave the cold to visit at least one or two shrines in the evening.


We completed our garden visit with a cup of complimentary hot tea and a piece of traditional snack at the tea house. A voucher will be handed to you as you purchase your ticket.
Kitano Tenmangu Shrine
Getting Here: Kyoto City Bus number 50 or 101 from Kyoto Station/Randen Kitano-Hakubaichō Station
Hours: April – September : 5:00 – 18:00/October – March : 5:30 – 17:30/ illumination of the Momiji-en (autumn maple garden) : 9:00-20:00/Festival on the 25th of each month: 6:00 – 21:00
Admission: 700 yen


Kyoto's Pontocho Alley is a narrow alley full of bars, restaurants, and tea houses that runs from Shijo-dori to Sanjo-dori. It is a good place to look for dinner and supper.


We randomly walked into a yakitori restaurant and everything that we ordered were so delicious!


As a sticky friend, I must meet up with Michelle and Gary who were on their "minimoon".
DAY 3


Nanzenji Temple is one of Kyoto's secret spots. Despite its vast ground and its notable gardens, many foreign tourists do not know about this beautiful temple, which is home to many artistically, unique constructions.

But after all, what is the most popular thing in Nanzen-ji is Autumn Leaves.


There is a large brick aqueduct that passes through the temple grounds. Built during the Meiji Period (1868-1912), the aqueduct is part of a canal system that was constructed to carry water and goods between Kyoto and Lake Biwa in neighbouring Shiga Prefecture.


For lunch, we pre-book a tofu kaiseki experience at Nanzenji Junsei (南禪寺順正) from KLOOK. [Use promo code SHOPFESTFIRSTMY (RM15 off for first timer)/SHOPEXTRA7 (7% off)/JOMHOLIDAY50 (min spend RM800)/JOMHOLIDAY100 (min spend RM1200)]

Junsei is Kyoto's most famous yudofu restaurant located within a temple. We really love the surrounding garden in this designated cultural Japanese property.


Even the service is top notch! We tried the specialty yudofu cooked in a Japanese broth hotpot. There were other side dishes such as sliced raw sea bream with kelp, sesame tofu, baked tofu with miso, vegetable tempura assortmen, rice and pickled vegetables. The set costs about RM 120 per pax.
Nanzen-ji
Opening hours:
8.40am-5pm, last entry 4:40pm March-November
8.40am-4.30pm, last entry 4:10pm December-February
Admission: free
Nearest Transport: 10min walk from Keage Station, Tozai subway line


After lunch, we took the train to Fushimi Inari, n important Shinto shrine in southern Kyoto.


The magical, seemingly unending path of over 5000 vibrant orange torii gates that wind through the hills behind Fushimi Inari-taisha Shrine makes it one of the most popular shrines in Japan.


This shrine, dedicated to the god of rice and sake in the 8th century, also features dozens of statues of foxes.


Fushimi Inari
Getting Here: 3-minute walk from JR Inari Station on the JR Nara Line/5-minute walk from Keihan Railway Fushimiinari Station
Hours: 7:00-18:30 / 8:30-16:30 (Prayer)
Admission Fee: Free
Getting Here: 3-minute walk from JR Inari Station on the JR Nara Line/5-minute walk from Keihan Railway Fushimiinari Station


One cafe nearby the Fushimi Inari Shrine is the Vermillion Espresso Bar – the perfect place to relax after an exhilarating temple gate walk at one of Japan's most iconic sights. Their coffee is really good!
Vermillion Espresso Bar
Address: 85 Fukakusa Inarionmaecho, Fushimi-ku, Kyoto, Kyoto Prefecture 612-0881, Japan
Hours: 9AM–5PM daily


After Fushimi Inari, we walked around Shijō Kawaramachi (四条河原町), a vibrant part of central Kyoto where eShijō and Kawaramachi Streets intersect. Kawaramachi Street runs parallel to the Kamo River, while Shijō Street runs east–west through the center of the city.


For dinner, we stumbled upon 世界の山ちゃん河原町店 Sekaino Yamachan, my favourite izakaya from Nagoya. Their tebasaki(手羽先) – literally translates to "wing tips" is a must order!
DAY 4


Day 4 started with breakfast at Cafe Yamamoto やまもと喫茶 along the Shirakawa River at Gion area. The thick omelette sandwich and Japanese hand drip coffee here are really good.
Cafe Yamamoto
Address: 605-0036 Kyōto-fu, Kyōto-shi, Higashiyama-ku, 白川 西入ル石橋町307-2 Higashi Oji Dori
Tel: +81 75-531-0109
Hours: 7AM–5PM daily, closed on Tuesdays.


Since our breakfast place is very near to Chion-in 知恩院 and the admission fee is free, we went in and took some pictures. In autumn, they hold a special night viewing event at Hojo and Yuzen Garden.


Chionin Temple
Hours: Temple buildings are open from 9:00 to 16:30 (entry until 16:00); temple grounds are always open
Closed: No closing days
Admission: Free
Hojo and Yuzen Gardens
Hours: 9:00 to 16:30 (entry until 16:00), special evening hours during autumn and spring evening illuminations
Closed: No closing days
Admission: 500 yen (both gardens), 400 yen (Hojo Garden only), 300 yen (Yuzen Garden only)


Nara is within easy day trip distance from Kyoto and it takes about 35 minutes to 45 minutes by train. These are the two train lines that you can take.
JR Nara Line: Y690, 45 minutes by express (kaisoku), 70 minutes by local (futsu), departs from JR Kyoto Station in Kyoto and arrives at JR Nara Station in Nara
Kintetsu Nara Line: Y1110, 35 minutes by express (tokkyu), departs from Kintetsu Kyoto Station (on the south side of JR Kyoto Station) in Kyoto and arrives at Kintetsu Nara Station in Nara


We were excited to try out Unakiku at Kikusuiro, an elegant, classical Japanese restaurant that was founded in 1891. The original ryotei is a popular venue for weddings, private parties and special dinners, but is also open for lunch to give you an authentic experience at a more reasonable cost.


My Tokusen Gozen aka whole eel feast (5500 yen) is a huge feast on its own! The set consists of starter, appetiser, sashimi, vineyard dish, eel on rice, clear soup, pickles and seasonal dessert.


The Ainose-ju (3700 yen) allows us to opt for both white (without seasoning) and black (with seasoning) grilled eel. Both version were really good. The white unagi allows us to appreciate the original taste of freshly slaughtered unagi while the secret eel sauce of the black unagi is still the same recipe since Kikusuiro first opened its door.


All the unagi came from places such as Shizuoka, Aichi and Mie prefecture and they were all kept alive. After the eel is cleaned, it is pre-cooked on grill to get rid of extra grease, steamed to medium rare and slowly grilled over charcoal with our secret sauce.


The restaurant ground is so beautiful that we just had to take more pictures.


Unakiku at Kikusuiro
Address: 1130 Takabatakecho, Nara
Getting Here: 10 minutes on foot from Kintetsu Nara Station
Hours: 11:00 – 15:30 (last orders 14:30), closed on Tuesdays.


Nara is home to many beautiful sacred temples including hundreds of sacred deer with fawns. They mostly roam around Nara Park freely while on the hand, the park itself very popular place to view autumn foliage.


You can buy deer crackers from the street vendors to feed them but becareful because most of the deers are quite aggressive.


Todaiji temple is the main attraction here. The temple's ground is so spacious that features the Todaiji main hall, Todaiji museum, Shosoin Storehouse, Nigatsudo Hall and etc. The temple is a designated UNESCO World Heritage Site as one of the Eight Historic Monuments of Ancient Nara.
Nakatanidō is a famous mochitsuki shop in Nara, and also best known as the fastest mochi pounders in the nation. By forming the mochi while it's still hot, it is very soft and make a delicious mochi that is sticky and elastic.
The mocha (130 yen)  is covered in kinako (roasted soybean powder) and it was so soft and warm, even the red bean filling is delicious. Nakatanidō is located close to the Kintetsu Nara Station.

For dinner, we randomly walked into an izakaya close to our airbnb. The food was delicious and the service was friendly.


For dessert, we walked to Starbucks Sanjo Ohashi, te only cafe which has Kawayuka terrace offering special view of Kamogawa river and Sanjo Ohashi bridge nearby.
DAY 5


Inoda is one of Kyoto's long-established coffee chains, and has several outposts dotted around the city, but the original cafe and shop (honten) is the best place to visit.


It is an establishment just like our Yut Kee and Sek Yuen. Most of the waitstaffs are seniors and they were wearing crisp white uniforms.


The breakfast set, which is served until 11 a.m., is filling and includes coffee. For sweets lovers, there is also a great assortment of cakes.
Inoda Coffee Honten
Address: 140 Doyu-cho, Sanjo-sagaru, Sakaimachi-dori, Nakagyo-ku
Hours: 7am-8pm
Getting Here: 5min walk from Karasuma Oike Station Exit 5, Tozai & Karasuma subway lines. Walking distance from Nishiji Market.


We did some last minute shopping at Nishiki Market before heading home.


For some of the must buy must eat in Nishiki Market, please refer to our old Kyoto & Osaka post here.