Central Vietnam is known for its well-preserved historical sites, smiling locals, and soothing natural beauty. Now that we have direct flights from KL to Da Nang, it is a good opportunity visit this region that is extremely rich in heritage and history. We spent 4D3N in Da Nang, Hue & Hoi An in July 2018.
Where to Go?
There are four UNESCO World Heritage Sites in this region.
Hue is famous for its Imperial Citadel, royal tombs and excellent street food.
Hoi An ancient town is a riverside jewel of Central Vietnam.
My Son, also known as the mini Angkor Wat, was the burial and religious center of the region.
Phong Nha-Ke Bang National Park
Others: Da Nang is a young and dynamic city with long, sandy beaches.
Others: Ba Na Hills – a mountaintop resort complex that looks like a medieval castle.
Best Time to Visit?
We came here during the dry season (Feb – July) but hottest month (June, July) so the weather is unbearably hot (36 degree celsius in the day!). Try to avoid the rainy season in Hoi An  from September until January.  Hence the best time to visit is between February and April, when rainfall is low and temperatures are comfortable.
Itinerary:
We spent an evening in Da Nang city, and on the second day we headed to Hue Imperial City for a day trip (other options: French Village & Ba Na Hills). We also spend one whole day in Hoi An on the third day (other options: My Son in the morning, then Hoi An in the afternoon and evening) and chilled at An Bang beach (10 minutes from Hoi An) on the fourth day. Some visitors just skip Da Nang and spend 3-4 days in Hoi An. It is up to your own personal preferences.
Day 1 – Da Nang:
My Khe Beach, Dinner @ Banh Seo Ba Duong & Mi Quang Thi, Dragon Bridge, Stay @ Da Nang airbnb
Day 2 – Da Nang & Hue:
Breakfast @ Coffee Venus , Hue One Day Trip, Dinner @ Thung Phi BBQ, Stay @ Da Nang airbnb
Day 3 – Hoi An:
Breakfast @ Thanh Tam Bakery, cafe and tea house hopping @ Hoi An Ancient Town, Lunch @ Banh Mi Phuong, Hoi An Evening Food Tour, Hoi An Night Market, Stay @ An Bang beach airbnb
Day 4: Hoi An:
An Bang beach, Lunch @ Sound of Silence Cafe
How Much Money Do I Need?
RM 100-150 per day is more than enough for two pax. Hotel/airbnb generally costs less than RM 200 per night. Beer and soft drinks in restaurants cost about 10-20,000 dong, coffee 10-20,000 dong, banhmi 15-30,000 dong. In general it is quite hard to spend more than RM 50 on one meal (2 pax) here.
10,000 Vietnamese Dong = RM 1.80
DAY 1:


We flew Air Asia into Da Nang International Airport and got picked up by our private airport transfer (RM 40 one way) that we booked via Klook.
The driver arrived earlier to wait for us, it was easy to spot him because he was holding a card with our names written on it. Alternatively, you can call for a Grab Car.


We checked into our airbnb near My Khe beach. It is a clean and spacious 1BR apartment and it costs less than RM 200 per night. Our host gave us plenty of local recommendations, and the security is tight. We have our own access card to the main gate, as well as locks to the building and to our room. Sign up here for RM 60 free credit on your first booking.


It was still too early for dinner so we strolled along My Khe beach. The beach is very popular amongst tourists, both Vietnamese and international. However, we prefer the quaint and clean An Bang beach near Hoi An.


Alongside the stretch of golden sand are hotels, restaurants and beachfront resorts.


For dinner, we took a Grab Car to Bánh Xèo Bà Dưỡng. Most drivers will drop you at the main street. From there, you need to walk through an alley, the restaurant is located towards the end of the alley. There are many other banh xeo restaurants along the way, just remember to to look for "Ba Duong"'s signboard.


The restaurant is super crowded with both locals and tourists. There were napkins all over the floor, we would like to think that it means the food is good (just like tapas bar in Spain). We didn't know what to order and how to order, but fret not! The waitstaff just drop everything on our table, and the portion is just nice for two pax!


Banh xeo is a crispy pancake from Vietnam and it is traditionally filled with pork and prawns, vegetables and bean sprouts. The proper way to eat this is to wrap a portion with some nem lui (grilled pork sausage) and fresh vegetables in rice paper, and then dip the roll in the savoury and sweet magic sauce. It was delicious, and dinner for two costs only 90,000 (RM 16)!
Banh Xeo Ba Duong
Add: 280/23 Hoàng Diệu, Bình Hiên, Q. Hải Châu, Đà Nẵng, Vietnam
Tel: +84 051 1387-3168
Hours: 9am to 930pm daily


We also tried Mi Quang Thi that is located just two minutes (walk) away from Banh Xeo Ba Duong. In Da Nang, it's a lot easier to find a place to eat Mi Quang than to eat Pho. Da Nang people can eat Mi Quang anytime of the day, for breakfast, lunch, dinner and any meal in between. It's the ultimate comfort food.
The main ingredients of mì quảng are turmeric rice noodles, meat and herbs, most commonly served with a small amount of broth. It is also garnished with peanuts and toasted sesame rice crackers. We didn't really like it, for the broth is rather bland tasting. However, you can still try Mi Quang from other shops if you are curious. Price: 20,000 dong (RM 3.60).
Mi Quang Thi
Add: 251 Hoàng Diệu, Nam Dương, Q. Hải Châu, Đà Nẵng, Vietnam
Hours: 6AM–1:29PM, 4–9PM daily
Tel: +84 90 577 74 52


From our dinner place, we took a Grab Car (again) to DHC Marina for the best view of Dragon Bridge. Dragon Bridge Da Nang is particularly cool (and packed with sightseers) in the evening as it is illuminated with colourful LED lights. On weekends and annual festivities, the state-of-the-art bridge is also scheduled to spit water or breathe fire from its mouth from 21:00 onwards.


A Love Bridge is also located here, on the romantic Han River. It reminds us of bridges attaching padlocks or love locks such as Pont des Arts crossing the Seine River (France), Nam San Tower (Korea) or Milvio Bridge (Italy).


The dragon started breathing fire and water at 9pm sharp (Saturdays and Sundays only). We took in this view from the Love Bridge. You can also take a seat at some local coffee shops with rooftop or get onboard one of the tourist cruises.
DAY 2:


Breakfast at a cafe next to our airbnb. Bò kho (beef stew) is a hearty, spicy and aromatic broth with diced beef, carrot and lemongrass. So good when eaten with a warm baguette!
Cafe Venus
Add: 115, Ngô Thì Sỹ, Bắc Mỹ An, Ngũ Hành Sơn, Đà Nẵng, Vietnam
Tel: +84 96 554 07 77
Hours: 6:45AM–10PM daily


Day 2 is all about the city of Hue that has a long and interesting history as an imperial city. We booked for a private vehicle and a private driver from Klook (RM 322 per day, 12 hours).
An admin staff from the office will send you WhatsApp messages beforehand to discuss and to finalise your itinerary. This is to avoid misunderstandings as the driver speaks minimal English. If you want to have any changes on your finalised itinerary, just let the admin staff knows and she will inform the driver accordingly. Sometimes, we communicate using google translate and it worked too.


Our Itinerary:
8:00am: Depart for former Imperial Capital Hue
9:00am: Photo stop along Hai Van Pass
11:00am: Arrive at Hue
Explore Khai Dinh and Minh Royal Tombs (VND100,000 per tomb/person entry fee)
12:30pm lunch at Quan Hanh
2:30pm: Axplore Imperial Citadel (VND150,000/person entry fee)
4:00pm: Thien Mu Pagoda
4:30pm: coffe stop
5:00pm: depart for Da Nang

From Da Nang to Hue, we ventured through the mountainous Hai Van Pass, one of the most famous stretches of road in Vietnam, and along the scenic coast. It is also made popular by Top Gear as "one of the best coast roads in the world".


At the top of the pass is the Hai Van gate and a few remnants of war fortifications, as well as a few restaurants – which also have toilets.


We reached Hue after a 3 hours car ride and our first stop was the Tomb of Khai Dinh.
From 1802 to 1945, Vietnam was ruled by the Nguyen Dynasty, a powerful family who had its capital in the city of Hue for more than 100 years. Since Hue was an imperial capital for well over a century, many of the former Emperors have elaborate tombs dedicated to them here. There are seven royal tombs here but the more elaborated ones are Tu Duc, Khai Dinh, and Minh Mang.


Khai Dinh was the second last emperor of Vietnam, from 1916 to 1925, and widely seen as a puppet of the French. The construction of the tomb took 11 years. The tomb was built on the side of a mountain, and its inner sanctum is 127 steps up from street level.


Khai Dinh's royal tomb is guarded by honour guards such as stone bodyguards, mandarins, elephants, and horses.


Thien Dinh Palace on the top is the most elaborated hall and is decorated in a flowery show of glass and porcelain.


Our second stop was Minh Mang's royal tomb. Touted as the most majestic of all Nguyen Dynasty royal tombs, Minh Mang Tomb is a complex of 40 constructions: palaces, temples, pavilions, etc. The Emperor ordered the construction of his tomb, but did not live to complete it; he died in 1840, and was only laid to rest in his tomb in 1843, when his son had completed the tomb for him.

Lunch finally! The tour company recommended Quan Hanh Hue and our driver took us here. It is a very popular local restaurant amongst the tourists and also locals.


We started with Bahn Beo, a dish that comes from Hue. It is actually steamed rice cakes in very small dishes and topped with dried shrimps and crispy pork scratchings. It was so delicious with the fish sauce. We can easily down 10 of these at one go.


We also tried Banh Nam, another Hue signature dish. Its flavor is stronger than Beo Cake, even though it was made from the same ingredients: rice flour, pork, shrimps, and scallion. Banh Nam is covered in layers of the banana leaf so when we eat it, we will remove the leaves, add some sweet fish sauce on top and enjoy. Total bill: 190,000 dong/RM 34.
Quán Hạnh Huế
Add: 11-15 Phó Đức Chính, Phú Hội, Thành phố Huế, Thừa Thiên Huế, Vietnam
Tel: +84 165 830 6650
Hours: 9am to 9pm daily


After lunch, the driver dropped us at the Imperial City of Hue, a palace belonged to the ancient city of Hue which was a capital city of the Nguyen Dynasty for 140 years date back from 1805 until 1945. Famously being one of Vietnam's seven UNESCO World Heritage Sites, the Imperial City of Hue has long been a must-see attraction for tourists. However, it rained heavily when we were there, so didn't get to see much.


Our last stop was the Thien Mu Pagoda that is overlooking the Perfume River. It is also akin to the "symbol" of the city of Hue. The complex dates all the way back to the early 1600s.


We departed back to Da Nang after a coffee stop.


Our airbnb host recommended this dinner place call Thung Phi BBQ. This place is hidden in the small side alley and the clientele is 90% Koreans. They even blast k-pop songs and serve soju here.


You can order cooked food like noodles, soups, rice and etc or you can grill your own food on the table. We ordered a pork combination platter, octopus, prawn, fried noodles and fried vegetable. Cold beer is also a must here, everywhere we go, beer is selling at the same price as coke (10,000-20,000 dong, RM 1.80 to RM 3.60).


The meal was nothing to shout about, but the vibe and atmosphere was good and made for a fun meal.


Thung Phi BBQ
Add: 195/9 Nguyễn Văn Thoại, Phước Mỹ, Ngũ Hành Sơn, Đà Nẵng, Vietnam
Hours: 5–10PM daily
Tel: +84 93 454 22 33
DAY 3: 


Thanh Tam Bakery is a cafe located inside a monastery. It is part of a school for the disable that provide them with training on basic baking or sewing skills. Most of the food here uses organic produce and they only sell organic coffee too.


We love the peaceful and quiet environment here, great place to spend your morning or afternoon.


Their freshly baked baguette is amazing, so does their iced coffee. Everything is reasonably priced just like the other cafes that we have visited for the past few days. Coffee for 10-25,000 dong and food for 15-50,000 dong.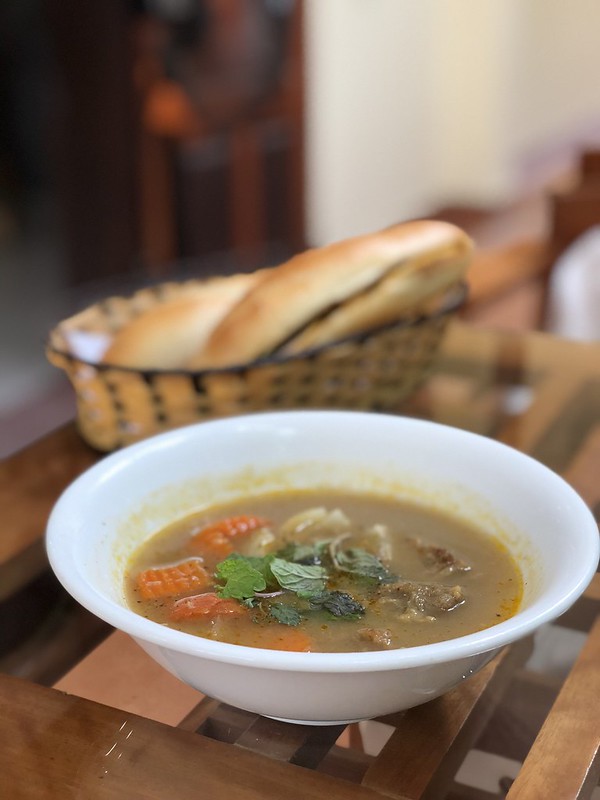 Thanh Tam Bakery
Add: The corner of, Ngô Thì Sỹ, Ngũ Hành Sơn, Đà Nẵng, Vietnam
Tel: +84 236 3958 545
Hours: 7AM–5PM daily, closed on Sundays


We used the same private vehicle and a private driver from Klook (RM 322 per day, 12 hours) for our trip to Hoi An. If you are staying overnight in Hoi An, you don't really need to book a driver for full day because most hotels and airbnbs here provide free bicycle rental. However, I am pregnant and I couldn't cycle and our hotel is by the beach (10 minutes from Hoi An), so we booked a car for full day.


Hoi An Ancient Town is an exceptionally well-preserved trading port dating from the 15th to the 19th century. Its buildings and its street plan reflect the influences, both indigenous and foreign, that have combined to produce this unique heritage site.


The Japanese Bridge is a fine woodenbridge, with a pagoda on it, dating from the 18th century.


In 1999 the old town was declared a World Heritage Site by UNESCO. Colourful hanging lanterns and colourful buildings that display a unique blend of local and foreign influences make this town a  picturesque spot.
Some of the interesting places that we have visited:


The Reaching Out Tea House in Hoi An is a lovely social enterprise that aims to support the local speech and hearing-impaired community.


We use these word woden blocks and gestures to communicate with the friendly staffs. All their cookies were made in house too, and the tea that we ordered tasted really good.
Reaching Out Teahouse
Add: 131 Trần Phú, Phường Minh An, Hội An, Quảng Nam, Vietnam
Hours: weekdays 8:30AM–9PM, weekends 10AM–8PM
Tel: +84 90 521 65 53


The Roaster of Hoi An is a gourmet coffee café and roastery. There are 3-4 coffee shop located in the heart of Hoi An's Ancient Town.


Sunday in Hoi An is a beautiful  homewares store that sells basket-ware, ceramics, linen and etc. I feel like buying everything here! The famous instagrammable wall is also located inside the store.
Sunday in Hoi An
Add: 25 Nguyễn Thái Học, Phường Minh An, Hội An, Quảng Nam, Vietnam
Hours: 9AM–9PM daily
Tel: +84 91 855 09 75


Hoi An is well-known for its custom-made leather goods and clothes. All throughout Hoi An's Ancient Town you can find dozens of these leather and tailor shops.


We also ate at Banh Mi Phuong, in which Anthony Bourdain called "the best Bánh mì in Vietnam". I've tasted better banh mi in Saigon but the banh mi here is really quite good. Go for the "pork combination" 25,000 dong. The line that forms outside the restaurant is for take-ways, you can just walk into the restaurant (and skip the queue) if you are eating in.
Bánh Mì Phượng
Address: 2B Phan Chu Trinh, Cẩm Châu, Hội An, Quảng Nam 560000, Vietnam
Hours: 6:30AM–9:30PM daily
Tel: +84 90 574 37 73


We checked into our airbnb at An Bang beach (USD 100 per night). We wouldn't really recommend it, despite it looking like a stand alone villa, the noise from the restaurant next door is unbearable. You can still pm us for the link if you are interested. Or you can look for other beautiful beach houses along An Bang beach at airbnb. Sign up here for RM 60 free credit on your first booking.


We also joined a Hoi An Evening Food Tour that we booked via Klook. We would highly recommend this as we got to try a wide variety of food, experience bai choi (bingo game with folk singing, UNESCO certified) and releasing water lantern from a traditional boat. The food tour lasts from 5pm to 9pm and we tried some food that is unique only to this region such as the White Rose, Cao Lao, Bánh Căn Bình Dân and etc.
.

The art of Bài Chòi in Central Vietnam is a diverse art combining music, poetry, acting, painting and literature.


Bài Chòi games involve a card game played in bamboo huts. The performers will sing will flipping open a wooden card and you will need to match yours according to what they have opened. Anyone who can have 3 matches will win the bingo game.


Our food tour ended with a traditional boat ride and we got to release a flower lantern into the river, carrying our wishes.


We stayed back for Hoi An Night Market after the tour, it is located just across the river. It consists of over 50 local vendors selling a variety of local snacks, trinkets, clothing, jewellery, and accessories.
DAY 4: 


Good morning from An Bang beach!


Our villa comes with traditional local breakfast spread and we got to have it at the own comfort of our verandah.


Love how peaceful and quiet the beach is, it has not quite yet been infiltrated with tourists.


It was so relaxing to just chill at the beach, ordered coconut drinks and took plenty of bump shots.


We also walked to a cafe call Sound of Silence.


It is a really beautiful cafe with that is divided into a few sections – coffee bar area, garden and pond area and the beach front area.


A very pleasant place to take the sea breeze while enjoying a cup of coffee.


They allowed us to order food from restaurants nearby too. What a great place to have our lunch, accompanied by sea breeze.
Sound of Silence
Add: Nguyen Phan Vinh Street, Hoi An 560000, Vietnam
Tel: +84 510 3861 101
Hours: 7:00 am-6:00 pm daily
That's all about our 4D3N itinerary to Da Nang, Hue and Hoi An. Hope you find this useful!