Another write up on Damansara Height's corporate slave luncheon by KampungboyCitygal. So we met tankiasu at our office building, in his turbo jet car, we went to get char siu bao and xiu long bao, then off we go to Seng Lee's, grabbed a seat, waited for food to arrive, took pictures, chit chatting, dropped char siu bao and xiu long bao, and we got back to our office. All these happened light-fast in one hour time. Pheeewwwwww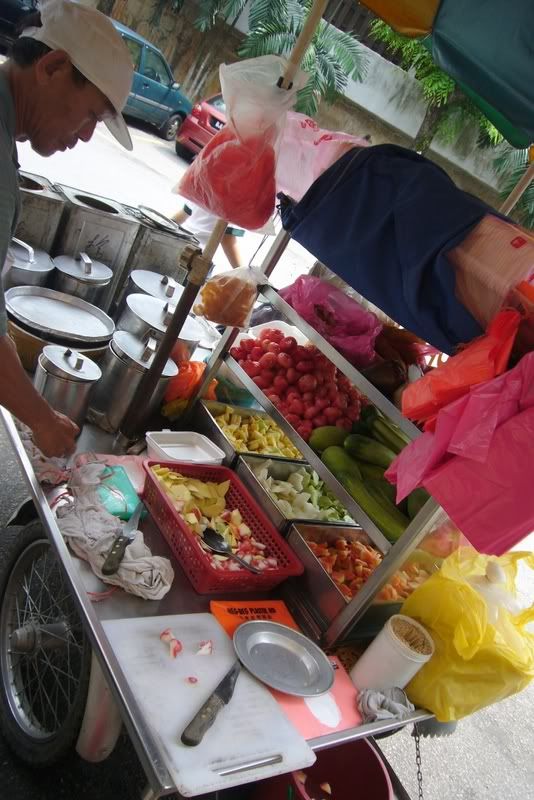 This is our favourite stall around. The man has been serving this fare at the same spot for almost 20 years. In a big metal mixing bowl, he mixes the yau char kuai, grilled tau foo, jambu air, mango, semi-ripe papaya, chinese turnips, pineapple and cucumbers with prawn paste and rojak sauce. The rojak is then served to a polystyrene container and topped with a generous amount of roasted grounded peanut.


You can easily spot the rojak stall in the modified sidecar motorcycle here everyday, since lunch time to three p.m. Try to avoid lunch time as the crowds are crazy!!
One of the best rojak that I've ever eaten. What makes their rojak better than others? It has to be the thick sticky black sauce: salty, sweet, sour, and the slightly pungent smell is too good to be misses. During our second visit here, kampungboy bought five packets for his colleagues and everyone in his group fell in love with it.
The stall is run by two sisters, other than wantan mee (soup or dry), they are selling curry mee, dumpling and braised chicken feet too.
Boo's
write up on the curry mee is a positive one. So Char Siew Bao and Kampungboy ordered the wantan mee, and it is nothing extraordinary, according to Kampungboy.
Char kuey teow in Penang style is something that we tried during our second visit here. According to tankiasu, the man 'ada angin' one, so the kuey teow can be either very sucky or very nice in certain days. Unfornately, he is going through PMS of his 'CKT cycle' that day because the char kuey teow is horrible – soggy and tasteless.
Even the man taking order for drinks 'ada angin', he can be very friendly and polite or very rude in different time. I wonder why is the Seng Lee still so hot and stuffy with two 'angin' generating turbine here?

Mooi Cheh, the wife of Seng Lee coffeeshop owner Ah Beng, has been in the food business for as long as she can remember. In the late 1990s, when the previous pork noodles hawker decided to move, she decided to take over the stall, serving a very commendable version of the dish. The couple, with their son, has been operating the coffeeshop behind Hock Lee's minimarket since 1977. (Information from Rasa-Rasa). Tankiasu keeps raving about the lo shu fan here so Xiu Long Bao and me decided to give it a try. The dried lo shu fan is a tad too oily but nevertheless it is delicious.
The soup comes with some simmered pork slices, pork balls and pork innards. An egg is cracked into the soup, resulting in a thick whitish coloured soup. The broth is so sweet, delicious and melodious!
Corporate Slave 1 – Mr. Char Siew Bao
Age: 2X
Height: 17Xcm
Weight: XX kg
Status: Attached to Miss Xiu Long Bao
Corporate Slave 2 – Mr. Tan Kia Su
Age: 2X
Height: 17Xcm
Weight: XX kg
Status: Attached to Miss I-Duno-Who-In-His-HP-Holding-Bouquet-Of-Flowers
**Update: Attached to a girl who is 2 yrs younger than him, holding a bouquet of roses, smiling sweetly in his new hi tech camera that can transform like transformer.
Restaurant Seng Lee
Jalan Batai
Damansara Heights
Kuala Lumpur
(Behind Hock Lee Supermarket)
Open from 11 am onwards and during lunchtime. Close on Sunday