I was browsing through my picture folders and realized that I tonnes of pictures yet to be posted up. I'm sorry because there were too many events, gatherings and parties going on for the pass few months. I'll try to update regularly ok?
This is another steamboat place at Seri Kembangan yet to be discovered! They are having this special promotion in conjunction with their new opening at RM 18.80 or RM 20.80 (Inclusive of drinks) per head. From what I know, their price remained ever since. -_-
If you are coming from the direction of Equine Park, turn left once you reached Sri Kembangan town area. It's hard not to notice this place with their big signage and colourful shiny neon lights.
The place is spacious, they can accomodate about 400 people. I love the atap leaf roofing that gives it a very "kampung" feel!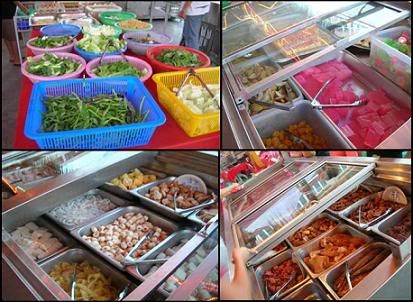 Look at the varieties! Competition for steamboat buffet place are stiff nowadays and in order to sustain, they need to have a wide variety of food choices. One minus point is that their seafood is not really fresh and we try to avoid it by taking more red meat and fish ball.
It's all under one roof – porridge, tom yam, bakuteh, SzeChuan spicy soup. Why travel all the way to Cheras for bakuteh steamboat when you can have it here. Besides that, the korean stone grill deserves special mention. Grilling your own food and keep it simmering is fun, and here the meat is well marinated.
Highlight of the night – D.I.Y Ice Kacang with the ice shaver provided. You can choose from the buckets of sweet red beans, crystal jelly, sweet corn, sweet atap chee, peanuts and topped your shaved iced with multicoloured sugar syrup including palm sugar .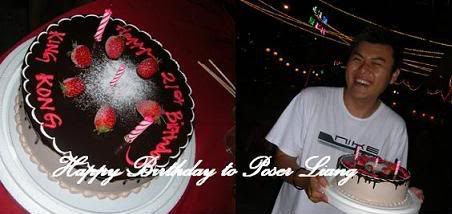 Personal shot of poser liang..Hahaha..Wishing him all the best for his beginning of adulthood!
These are the accountants to be..Can you spot kampungboy with his cheeky smile?
Yichang, this will be your ideal BBQ place right? Sweaty, Hot, Smelly, Oily and noisy crowd walking around (That would be me and you ok?)..LOL