Chinese New Year is the most important traditional Chinese holidays for my family. On the New Year Eve, all the members of the family will gather around for reunion dinner. Fish is a must dish on the table and it shall not ne eaten up completely to symbolized 'nian nian you yu(fish)'. This will blessed the family with surpluses for the remaining year.
For me family, steamboat has been on the table for the pass consecutive year. Mum boiled the clear soup with mushroom, chicken, sea cucumber, chinese cabbage and scallop. Boy..It tasted soooo sweet!! Ooo..and grandma said that Hakka must have yeong tau fu during New Year's Eve..So we bought lots of yeong tau fu, prawns, sea cucumber, vege and assortments of mushroom.
Steamboat beside the garden..The breeze of wind will blow away our sweat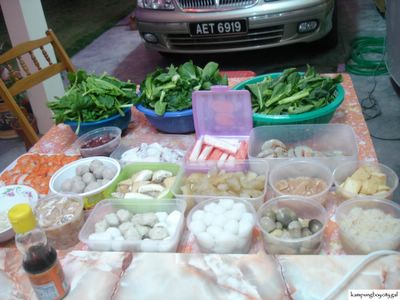 Just to show you guys the "bee hives" that i made..Sweet and crunchy..Its one of my favourite new year snacks..
The most challenging part..Coz i hate the heat of frying stuff

Nice golden-brownish colour